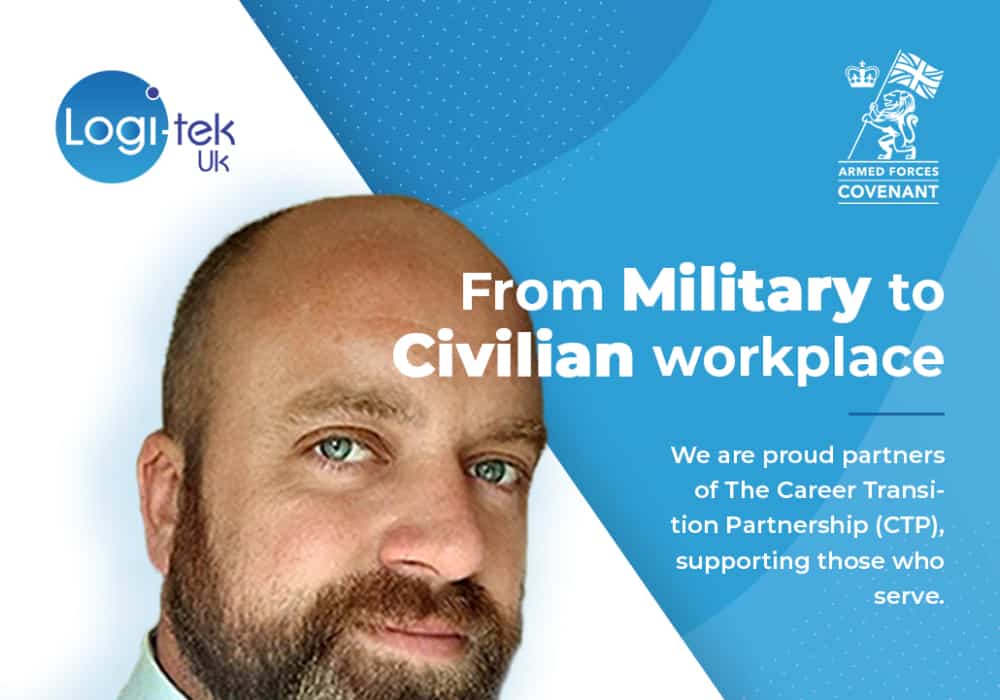 The CTP (Career Transition Partnership) scheme aids ex-Armed Forces personnel find work after their Armed Forces career. We strongly believe the skills and acumen utilised in service life provides a strong mix of transferrable skills. In our latest blog, we learn more about Chris Buller a former Royal Navy engineer.
Tell us a little bit about yourself?
I am 34 years of age from a little seaside town near Newcastle, Newbiggin by the Sea. I joined the Royal Navy around 8 years and a half years ago. I left at 8 years as a LET(ME), Leading Engineering Technician (Marine Engineering), having served on several class ships (Type 23s, River Class in the UK and Falklands, FSU and HMS Bristol). I saw my last 6 months out on the HMS Bristol before it was decommissioned, briefing and training phase 2 recruits so it was nice to get that experience before I left. I spent most of my time with diesel engines and control systems, but like many others experienced all M1, M2 and M3 sections.
What inspired you to join the forces?
I was stuck in a dead-end job, wasting my life away living for the weekend (and sometimes weekdays) I had previously had family in the Royal Navy and decided it was time to pick up and go. I joined the Royal Navy to follow in their path, but also to turn my life around, get out of the boring rut I was in, and here we are.
How have you found transitioning to civilian life?
I found the transition difficult at first. Going from a physically demanding, high pressured job which is so regimented and incredibly fast paced, to a very mentally demanding job which at times can be frustrating and slightly slower. I found this hard due to the way my mind operates, needing to be busy all the time, something else the Armed Forces breeds into its recruits.
How did Logi-tek help with your transition?
Logi-tek promotes a very similar ethic regarding teamwork. Teamwork is a vital part of the Armed Forces and for a company to have very similar core values was amazing. This meant that transitioning was made that little bit simpler due to the fact you could be placed anywhere in the world and know those around you were there to support you. This was primarily one of the reasons I was attracted to Logi-tek in the first place. The teamwork and morale shown regardless of the stress involved on the job have made this transition as simple as a crew change in the Royal Navy. Support is only an email or phone call away if need be. As a result, the tools I have learned in the Armed Forces have been utilised and I'm focused on the task at hand.
Can you tell us a little about your current role/project at Logi-tek?
I am a Commissioning Manager, working on hyperscale data centres, Mechanical and Electrical Systems. This includes the day-to-day management of resource, approaching a job methodically and problem solving as required. I am managing the process of the first functional tests of these systems and their integration, so no one day is the same.
Have you found that your military skills and training are transferable to your role at Logi-tek?
100%. Whilst the projects are on a way bigger scale, there are less systems to look after than on a ship. So, you can really focus your skillset into a couple of areas and expand your knowledge on the job. The management and methodical approach to a job in the Armed Forces really transfers well to this current role.
What impact has life in forces made on your work ethic today?
From Day 1 in the Armed Forces, you are re-programmed into using your time in the most efficient way. Upon entering the Forces I already had a half decent work ethic. By the time I left basic training, I became the most productive, efficient and punctual I could be with my wayward discipline turned around. The Armed Forces certainly encourage you to become the best possible human you can be, once you reach that then all the ownership is with you to maintain these gained skills. The can do, stay until the job is completed, attitude serves very well in this industry.
What advice would you give those who have left the forces and looking to get into work in our industry?
My advice would be to make use of the resettlement tools available to service leavers through CTP. More specifically, courses aimed at Commissioning and Project Management. The skillset and work ethic will already be there with most so topping up that education and experience would be vital. There is a lot of work with spreadsheets etc so any ICT courses would also be beneficial.
https://logi-tek.co.uk/wp-content/uploads/2021/04/1030-X-1030-_From-Military-to-Civilian-Workplace_.jpg
1030
1030
Taylor Kaye
https://logi-tek.co.uk/wp-content/uploads/2019/07/logitek-logo-colour.svg
Taylor Kaye
2021-04-08 15:44:43
2021-05-06 14:55:59
Transitioning from the Armed Forces to civilian life and Logi-tek (UK) – Blog featuring Chris Buller